Safety Locksmith NYC has a variety of exit devices for you to choose from. We sell and install them for commercial use as well as residential use. Visit today to find the door closed right for you, or call 212-534-7547 for more information.
This exit device has a durable rim that makes the door opening easy during an emergency.

Dimensions of the rim exit device are length(39") and width(6.5"), perfectly molded in T-shape.

The body of this device is made of stainless steel, brass, and alloy, which makes it corrosion-free.

Easily fits the single swing doors for emergency purposes.

Designed for the use of both left and right-hand doors. This exit device is equipped with Hex Key dogging for smooth door opening.
Surface Vertical Rod Exit Device
Designed for doors of 1-¾" to 2 inches thick. A vertical surface rod fits easily into the standard 7 feet long door.

This exit device is fully furnished with a metallic sheet and inbuilt machine screws.

A vertical rod shape offers precise friction for the quick door-opening process.

It features a sturdy, long rod and crash bar handle. Perfect for commercial as well as residential doors.

This vertical rod exit door supports the standard installation process.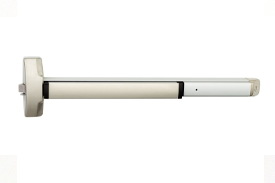 Fabricated steel is used to make this exit device. Its rail and push pad has a coating of powdered aluminum and brass.

It can be used for left and right-handed doors of width 28-48 inches. This exit device is suitable for wooden doors.

Designed for use in retail spaces, hotels, and office exit doors.

This device works on the dogging mechanism that lets safe and quick exit.

The kit of this exit device includes mounting hardware, screws, and a user manual.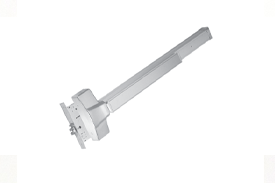 Mortise lock exit device follows bolted trim mechanism for operation and security.

Designed for narrow design door stiles. It is best suited for double and single glass doors.

This device features a mortise lock and vertice rod that provides a quick and safe exit.

It releases a latch automatically when there is a high pressure of body weight on the bar.

The mortise lock device includes machine screws and wood for quick installation.
Concealed Vertical Rod Exit Device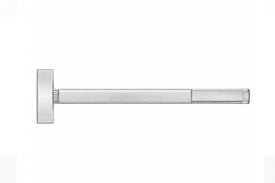 A concealed exit device is made from stainless steel. It is suitable for wooden and metal doors of 28-36 inches. 

It features a solid spring bolt that supports quick exit during emergencies.

This versatile exit device can be used in schools, hotels, hospitals, and office emergency exit doors.

Easy to assemble with included screws, hardware, and manual guide.

Resists incidents like sawing through the pre-built metal rod.