We cut and duplicate all types of security keys. Our experts have hands-on experience in car and lock keys. We also provide emergency re-key service for different locks. Visit our store to check our variety of keys. Call 212-534-7547 to get a free consultation as per your needs.
This Medeco key is coated with nickel and weighs 1.44 ounces.

The key blank is MDC-45, which fits in the lock easily.

It supports dual rotation while unlocking things. A biaxial 6-pin provides keyways while opening the lock.

Easily fits in different sizes of modern door locks.
Designed for standard interactive locks to facilitate daily processes.

Mul-T-Lock Key has a bronze cylinder that fits the deadlock perfectly.

It comes with a magnetic duplication key card in case of any emergency.

The upper portion is covered with a rubber cover that acts as a thumb turn.

It can be used with high-security cylinder deadbolt locks.
Our modern car key is for consumers who want to replace their older automobile keys.

The replacement kit includes a combo key and pairing device.

The key blade can be customized as per your vehicle's needs.

A smart holding back contains different lock, unlock, horn, and backseat buttons.

This car key can be paired with an automobile in a few minutes.
It works perfectly with all types of Schlage interchangeable locks.

A C-type Key section is part of a multi-section keyway system. Easily operated with H & L master sections.

Schlage Keys are built from nickel silver and open locks smoothly.

Dimensions of this key are 18.03(Length) x 10.16(height) x 3.81(width).
Yardeni Keys support different vehicles and are customized easily.

It has nickel plated from the bottom while the head is of sturdy rubber.

Easily paired with different vehicle locks. 

The material used is coated with water-resistant powder.

Kit includes a pair of Yardeni keys and a supported vehicle list.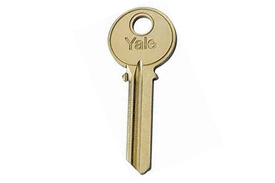 The Yale key is the uncut blank key that supports different deadbolts and regular locks.

It is built from pure nickel silver. 

This key comes in a 6 Pin package of dimensions 2.7 cm(length) x 13 cm(height) x 6 cm(width).

At the top, it has Yale branding along with a ring. It helps in storing the key blank in a safe place.
It is a Silca JMA keyline that easily fits in a universal lock.

This Nabob key is built with nickel plate steel. The key is suited to cylindrical GEN as well.

The dimensions of its blade are 27.3 mm(Length) and 8.3mm(Width).

It comes with an extra copy key blank for emergencies.

This key is suitable for household and store entrance locks.