Protect your valuable items with our anti-theft and fireproof safes. We have a wide range of safes that meet your home and business security needs. Each of our safes is equipped with the latest locking mechanisms, designed for keeping money, jewelry, documents, and many more.
To discover the safe as per your needs, call 212-534-7547 for a free consultation.
The Security safe is made for your everyday needs. Its half cubic feet full-alloy body is sturdy and looks attractive. 

It can easily store items of weight up to 18 pounds. 

In the front, it has an advanced electronic locking system. 

An indicator light lets you know about the locking and unlocking process of this safe. It also includes emergency override keys to help you with forgotten passcodes. 

Anyone can install our security safe with the pre-drilled mounting holes.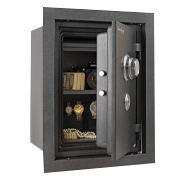 A single-door wall safe brings the next level of security to precious items. It is suitable to keep luxury watches, jewelry, and antique items. 

The alloy steel used in this safe is durable and provides large space for items. 

It has a digital lock system that is easily programmed with 3-8 digit codes. 

An audible alarm warns you whenever it detects a wrong passcode more than thrice. 

It works perfectly as a home and office safe.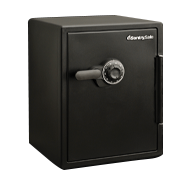 This safe lets you set your own combination lock with rounded dial numbers. The inner storage space is divided into two compartments. 

The front handle of the safe has a good grip that lets you unlock the items smoothly. 

The outer steel is scratch resistant and also durable. 

Its latest locking mechanism uses four locking bolts, a hinge bar, and a shelf. 

The safe also included pre-drilled holes for the floor and wall mounting process.
A compact design makes this safe suitable for storing cash and legal documents. 

The outer surface is made from laser-cut steel that is hard to break. 

It has an electronic lock system that accepts up to 5-digit security codes. 

You can also use a manual key to unlock it during an emergency. 

This electronic safe protects your items against theft and robbery.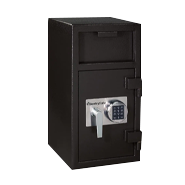 This depository safe supports 6 different digital locking codes. It is a perfect depository for office purposes. 

You can easily provide multiple access to this safe by allotting individual codes. A drop-size box offers sufficient space for bills, files, and cash. 

A front drawer allows you to give access to specific items. 

The whole body of this safe is of thick steel and includes a triple bolt locking system. 

An anti-phishing deposit drawer protects items against theft and tampering incidents.
Provide the next level of security to your items with our fireproof safe. This safe is covered with a fire-resistant and durable coating. 

It keeps all your documents in one place with a smart locking system. 

The outer bag of this safe works perfectly even in higher temperatures of 2000°F. 

The advanced digital lock system has a sensor light that opens up during the unlock process. 

It also has three different unlocking methods for emergency purposes.
This floor safe is easily installed within the floor through pre-drilled bolts. It comes with one combination lock system. 

The outer body of this safe is made of alloy steel with a coating of water resistance material. 

It also has a drop slot that deposits small items frequently. 

The inner durable built-in bolts work to secure the items in an order. 

You can easily use this safe to keep money and documents in one place.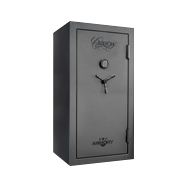 This gun safe provides ample space for different-sized guns. 

The outer body of this safe is fireproof and survives higher temperatures. It also features a triplet seal that protects your valuable armory items from theft, smoke, and fire damage. 

The outer lock has solid steel bolts that withstand theft or burglary attacks. 

Experience the ultimate gun protection with the advanced security of this safe.
This waterproof safe keeps the items in place securely. The outer coating is made of high-quality water-resistance steel. 

It has a digital locking system with a rounded number system. 

You can set the unique passcode in it along with a two-way unlocking system. 

It also features multiple hinges that provide long-lasting protection against forced entry. 

The different inner compartment is suitable for arranging items in the order.