We have different types of locks that add the next level of security to your space. Our padlocks and deadbolts are suitable for homes, offices, and stores. We also provide lock installation service as per your needs. To explore our wide range of locks and services, book a free consultation call at 212-534-7547.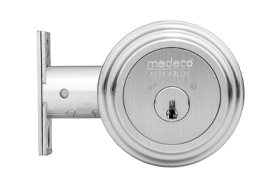 This Medeco deadbolt is made from hardened steel, which is rust-free. It also includes a universal lock system that provides high-drill protection.

There is also a key space outside and a thumb turn inside of this lock.

The steel used in this lock is durable and protects sawing and crowbar attacks.

This lock is also equipped with triple locking technology that is hard to break.

It is suitable for different size doors used at home and offices.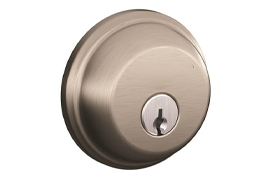 Give your entrance door ultimate security with our Schlage deadbolt. Designed with premium metal that adds strength to your door.

It includes a steel spinning pin and anti-drill plates that are durable.

This lock is easily coordinated with different colors and styles of doors.

Dimensions of this deadbolt are: height(2-½"), width(2-½"), exterior depth(⅞"), and interior depth(1-⅛").

Easily install in a few minutes with the help of a screwdriver.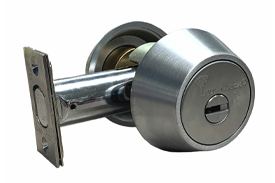 Hercular deadbolt provides solid security to your personal space. It locks and opens easily with a firm twist of the key.

This lock includes two keys and a thumb turn for a better hand grip.

It has the latest locking mechanism that only opens with its keys.

The steel used in this deadbolt is hardened and works well in different conditions.

Our Hercular deadbolt has a premium design that fits with any home decor.
This rim cylinder protection is designed for commercial, residential, and institutional doors. It can easily fit different types of doors in simple steps.

The outer cover of this lock guard is of satin brass covering the door's external side.

It has thick steel and has mounting brass finished bolts for resisting prying, drilling, and hammer attacks.

This lock top guard works perfectly for various locks with a precision of up to 10 telescopic pins.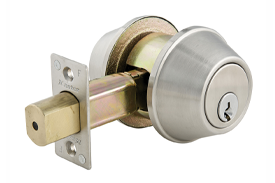 A double-sided deadbolt is an ultimate lock to provide dual-level security. Lock and unlock it by turning the outer or inner key.

It has a cylindrical keyhole and steel latch that protect against theft and robbery incidents.

The adjustable backset makes this deadbolt suitable for a variety of doors. It supports a range of door thicknesses of 35-50 mm.

This deadbolt is easy to install by using a screwdriver. The installation process takes a few minutes and saves you money.

Shop this lock to add extensive security to your personal space.
Jimmy Proof Deadlock is an advanced lock used to secure prohibited areas. This lock is durable and unbreakable, even with a hammer.

It features a jimmy-resistant design prohibiting forced entry by extending the door frames.

The deadlock includes the rim cylinder, angled strike, two keys, and tamper-resistant guard. You will get a pair of Segal keys that fits well in its 1-¼" size space.

This lock adds dual protection to doors, shutters, and entrances.

This Deadlock installs easily inside and outside of the dual-hinged doors. The installation process can be performed by using its manual guide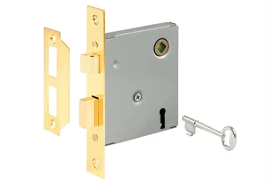 Our Mortise lock is from the premium line of brass knock locks. This lock is ideal for updating and replacing interior door in-built locks. 

The overall body of this lock is made from alloy steel and brass. Due to its antique finish, it fits naturally with various decors.

It included two functional keys and one keeper. The dimension of this Mortise Lock is 1.13 x 4.81 x 8.44 inches.

Ideal for replacing broken interior lock sets of 1-⅜ to 1-¾ inches.

This lock set can be a privacy lock for the bathroom, kitchen, bedroom, and cupboard.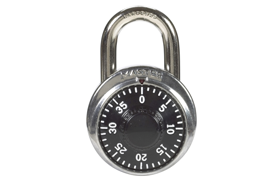 Ideally designed for school and gym lockers to protect items from theft. 

A combination lock offers a three-digit combination for the lock and unlocking process.

It is made from a metal body covered with an anodized aluminum cover. The hardened steel allows an anti-shim locking mechanism.

Due to its lightweight, it easily fits in luggage trolleys and bags.

A rotatable number surface lets you set your unique passcode for this lock.
This dual-grade lock has two keyed entries that make it suitable for an office building. It provides privacy to your working area with a one-step lock process.

Both of its handles work independently from each other. An exterior lever is easily locked with a key, while the interior lever works with a push button.

The whole body of this office lock is made from zinc material.

Each lockset includes strong compression springs that prevent lever sag.

This lock is ideal for both right and light-hand office doors.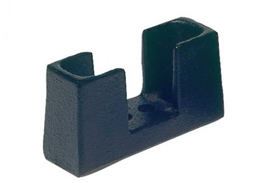 Our Shackle Protector is perfect for the C-Series padlocks. It adds additional security to your locks.

The material used in designing this protector is high-quality steel casting.

In the shackle kit, you will get two machine screws, lock washers, and this shackle protector.

Works perfectly for garage gates, caravans, and storage units.

It also includes four keys that you can share with your family members.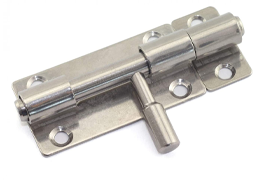 A sliding bolt is a traditional lock system that is 2X stronger than the normal sliding lock.

It provides extra security to your locker room gate, bathroom, kitchen, and bedroom.

This sliding bolt is made from stainless steel and uses electroplating technology.

The brush-finished coating makes it water and corrosion-resistant.

Extremely easy to install with a screw drill in approx 5 minutes.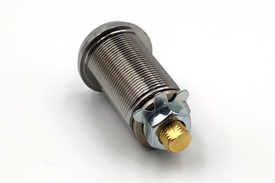 The removable lock is installed quickly in the lock cylinder. It can also be interchanged with ordinary locks when needed.

You will get two additional keys to plugin easily into the lock space.

Fits in all SYMO lock cases and home/ office doors.

It is manufactured from zinc, while the lever is coated with pure brass.
Our all-new round lock follows the padlock application to secure your space.

It is ideal for garages, storage units, trailers, warehouses, and outdoor gates.

This lock has a stainless steel body that works perfectly indoors and outdoors.

It includes a brass-finished cylinder that adds security to doors. A durable design of this minimizes shackle exposure.

Available in different sizes and designs with the latest lock feature.