Are you dealing with a broken or lost key situation? Or do you need a duplicate key for your partner?
Have you lost or broken your key? Or need a new key for your new house? Key-made service is what you require. Regardless of the purpose, the key-made service offers you a specific key for a specific lock. No matter whether you require a key for your home safety, business security or your vehicle, key-made services cover all these.
In a big city like New York, a small work of key making is not always easy. Because options for locksmiths are endless, choosing the right locksmith for your need is quite a task. So now let us make it easier for you.
Safety Locksmith is one of the most reliable and promising names you can count on for locksmith services. Our locksmith services, like key making, are quick and affordable. We offer you secure and solid keys for your home, offices and automobiles. Our collection of keys is guaranteed to work, so you never have to worry about it.
Explain The Process Of Key Making?
If you are planning to get your key made, first evaluate the different locations and their services to pick one that matches your budget. Basically, there are two ways to design keys. The first way is to use a copy machine for key copying. All you have to do is insert your key, pick a design and follow the instructions. And others by taking the help of someone at home improvement stores in making extra keys. 
Best Key Made Service In NYC
Whatever kind of bolt you have, we have a key for you. Safety Locksmith offers you one of the best key-made services in NYC. We ensure our client offer rightly fitted keys for their respective locks. We offer keys from standard to advanced to increase your security. 
Our team have expert and fully-trained locksmiths that provide you with quick key-made service in time of emergencies. They are equipped with all crucial tools required for key making or key duplication. Our service of key making is very reliable and affordable. Hire us to quickly and efficiently release your safety concern. 
Types Of Keys We Make And Offer
Although there are plenty of keys for multiple settings and purposes, we have compiled a list of the most popular and functional keys that we make and offer.
Medeco Keys
The Medeco key has a nickel plating with a weight of 1.44 ounces. Its key blank is MDC-45, which easily fits in the lock. The Medeco key support dual rotation while unbolting. This key provides accountability, controlled access, and physical security. Moreover, it is suitable for advanced door locks of different sizes. 
Mul-T-Lock Keys
Used on a regular basis, this Mul-T-Lock Keys is designed for standard interactive bolts. This key comprises a bronze cylinder that perfectly fits the deadlock. Also, the Mul-T-Lock Keys come with a magnetic copying key card for emergencies. Its upper part is sealed with a rubber cover that works as a thumb turn. It is a great fit for high-security cylinder deadbolts.
Car Keys
If you are still using traditional car keys, then it's time to replace them with this advanced car key. In the kit car key, you will get a pairing key and pairing device. Also, you can customize this car key based on your vehicle's needs. An advanced holding back comprises various bolts, horns, unlock, and backseat buttons. Moreover, this key easily and instantly gets paired with the vehicle in a few minutes. 
Schlage Keys
Schlage Keys is a perfect and protective key that fits all Schlage interchangeable locks. It has a C-type Key blank that easily works with H & L master sections. The Schlage key is designed from nickel silver and unlocks smoothly. This key comes with the dimension of 18.03(Length) x 10.16(height) x 3.81(width).
Yardeni Keys
Yardeni Keys is an automobile key that supports various vehicles. This key has a nickel coating at the bottom, with the head covered with sturdy rubber. The material used in its overall coating is water-resistant powder. Besides getting easily paired with any vehicle lock, this key can also be customized based on your vehicle's needs. 
Yale Keys
The Yale key is the non-trimmed blank key that can pair with various standard locks and even deadbolts. This key is made of pure nickel silver and comes in 6 Pin pack of dimensions 2.7 cm (length) x 13 cm (height) x 6 cm (width).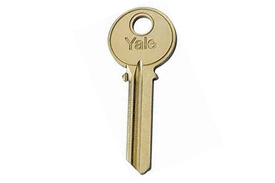 Nabob Keys
Nabob Keys is a Silca JMA keyline that is built with nickel-coated steel and effortlessly fits in a universal bolt. Also, this key is great to pair with cylindrical GEN. The dimensions this key comes with are 27.3 mm (Length) and 8.3 mm (Width). Also, it comes with an additional duplicate key blank for emergencies. Nabob Key is suitable for both household and business locks. 
Frequently Aksed Questions
Get New Or Duplicate Keys Made In NYC: Safety Locksmith